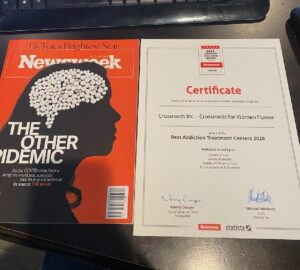 Crossroads Flower have been selected by Newsweek as one of the best addiction treatment center in the state of Arizona.
This is the first year Newsweek has evaluated and ranked addiction treatment facilities. The inaugural effort included detailed assessments of treatment centers in 20 states.
Newsweek partnered with Statista Inc., a global market research and consumer data firm, to determine the premier addiction treatment facilities in each of the states that were included in this year's report. The evaluation process included surveys of doctors, other healthcare professionals, and administrators. The facilities were assigned scores based on their quality of service, reputation, and accreditation.
The 20 states that were involved in this year's rankings have the greatest number of addiction treatment facilities as determined by the Substance Abuse and Mental Health Services Administration (SAMHSA).
Crossroads' Flower facility has been recognized for their efforts to improve the lives of individuals and families who have been impacted by substance use and addiction. The fact that the Newsweek rankings were based in part on surveys of Crossroad's peers in the healthcare field makes this recognition particularly meaningful. The best possible outcome of this recognition in Newsweek is that it will give us the opportunity to help even more people during their time of need.  To read the Newsweek article, click HERE.