THERE ARE SEVERAL WAYS TO GIVE
The support of our community members allows Crossroads to change lives, one person at a time. If you or someone you love has been impacted by alcohol or substance abuse issues, please consider supporting the life changing work Crossroads completes every day to help addicts and alcoholics gain sobriety, dignity, and self-sufficiency.
Without your support, Crossroads would not be able to change lives. As a 501(c)3, all donations to Crossroads are tax-deductible but not refundable Tax ID 86-0182987. We will not reuse, store, resell or otherwise use your information for anything other than this, one-time, generous donation. For more information, please view our privacy policy.
SAMMY'S
ROOM
DONATIONS
New and unused:
Diapers of all sizes
Pull-ups
Baby wipes
Coloring books
Markers and crayons
Sanitizing wipes
Colored pencils
Kids scissors
Glue sticks
Construction paper
Games and puzzles
CHARITABLE TAX CREDIT DONATION
A Charitable Tax Credit Donation is a simple way to help Crossroads that won't cost you a dime. Every dollar you donate (up to $800 if filing jointly or up to $400 if filing single) is returned to you in full as a dollar for dollar credit on your Arizona tax return. It's even easier to donate than ever because you don't have to itemize to take the credit and you can claim both the Charitable and the Public/Private School Tax Credits.
For more information, please contact Charlie Nemeth at 602.263.5242 Ext. 1509 or email him at charlie.nemeth@thecrossroadsinc.org
IN MEMORIAM GIVING
Contributions made in memory of a loved one are gratefully accepted by Crossroads and are a legacy that honors the life of someone dear. In Memoriam funds are used to help others recover from addiction and are a meaningful and lasting gift to remember your loved one by.
To designate a donation in memory of a loved one, once you have entered a donation amount you can scroll down and enter the loved one's information here: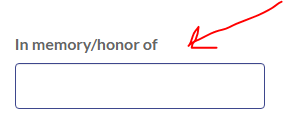 IN-KIND DONATION
If you would like to make a donation of tangible goods, there are many items that the residents at Crossroads need on a regular basis. Here are some of our "can-never-have-too-many" items, that can be accepted at our maintenance warehouse at 2933 N 16th Street, Phoenix 85016.  These items get distributed to our treatment facilities and provide direct benefit to the men and women in our recovery programs.
New, in-the-plastic:
Twin-sized flat sheets
Twin-sized fitted sheets
Pillows & pillow cases
Twin-sized blankets
Shower towels & washcloths
Shower floor mats
Full size shampoo
Full size conditioner
Feminine hygiene products
Full size soap
Laundry soap
Full size toothpaste
Tooth brushes
*We cannot accept donations of furniture, household items or electronics of any kind. Furniture donations can be processed through our community partner by clicking HERE or calling (480) 340-3417.
GENERAL DONATION
Support our programs with a recurring or a one-time gift. All donations, large or small, matter and help Crossroads serve as many people in need as possible. Your generosity helps us change lives, one person at a time.
FOUNDATION & CORPORATE GIVING
Major investments from foundations and corporations aid Crossroads in providing quality residential substance abuse treatment to individuals suffering from addiction to help them embark on the path to unlimited potential and possibly even start a business or foundation of their own some day.
LEGACY GIVING
Your legacy can have a meaningful impact too. A planned gift ensures the continuation of our programs and creates your own legacy of support. Planned giving also offers significant advantages, including tax breaks, and potential income increase.