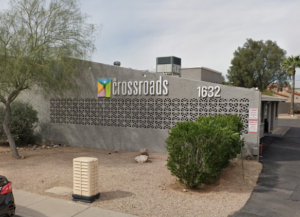 "Bidding Farewell to Flower, Crossroads for Women" written By Donna Alexander with introduction by Lee Pioski. (Taken from the 10/1/20 Crossroads Employee Newsletter)
Well we made it through the summer, and fall is finally here. One thing that never fails, is that fall brings change. Much like everything else in life, Crossroads is constantly evolving. As many of you know, our beloved women's facility has relocated to join the other women at Extension. Flower will now be transitioned into a men's facility, but leaves behind a great legacy. One person who knows Flower's legacy well is Ms. Donna Alexander, and is it with solemn pride that I introduce a piece she has written as a tribute: "Bidding Farewell to Flower".
~ Lee Pioski
The journey for Crossroads for Women actually started in 1982 at the Midtown facility. At the time it was purchased it was named 'Turning Point' and was a transitional living facility for women. The Flower facility was purchased and renovated in 2006. The women were moved over to the facility on March 24, 2007. Flower was licensed for 64 women. There were a few program coordinators those first 3 years with names such as Karen Barraclough, Cindy Smith and Sarah Goodwin. In April of 2010, Tammy Wilson was assigned to be the program coordinator of the Flower facility. I, Donna Alexander, was there with Tammy to navigate her new position. It was new for both of us and we certainly learned a lot those first few months. As the facility started to settle into a routine, it was decided, mostly by Tammy herself, that it was time for her to return to the financial duties she was also undertaking during her program coordinator adventure.
Over the next 7 and a half years I remained the coordinator and Flower went through many changes, some easier than others. The most amazing thing to me was it never lost its magic for the women who resided there. Lee Pioske had his office at the facility for the first year or so and there was definitely a distinct path from the Flower front office to his office back in apartment 12 as we all worked on finding the balance for Flower. We added 12 step meetings and the women would all join together and attend meetings at other facilities, mostly Crossroads West. The building of a strong foundation came from those 12 step meetings, sponsorship and step work. Many women with long term sobriety came to realize Flower was a beautiful place to acquire a women to work on the 12 steps with, sharing the message of recovery. They began showing up on a regular basis to be of service to the women, strengthening the facility.
In 2013, with the changing of Arizona licensure for recovery homes, Flower, as well as the entire Crossroads organization, went through the biggest change of all… moving from transitional living facilities to residential treatment. And still, the magic remained and became even stronger as the women were now allowed to really concentrate on their recovery with insurance covering the initial cost. Flower evolved and prospered. No longer were there available beds, we were able to help so many more women! It was truly inspiring. In 2019 the leadership of Flower was given to Ashley Hood and she has done a remarkable job. She led Flower to being recognized as one of the top facilities for residential substance abuse treatment in the country!
Many lifelong friendships and recoveries have begun at the Flower facility. Crossroads has contact with many of our alumni that have become productive members of society. Some of these women have gone on to get college degrees in various fields, become amazing mothers and wives or are being life participants that no longer break the law, are employed and pay taxes! It was always so heartwarming to watch a woman who had received her first paycheck, some of these were 1st ever some were first in a very long time. It was like they won the lottery! For many of them, they had. They learned to be women of integrity, independence and have self-esteem. We recognized the women as WOWs… Women of Worth. I still hear that term today and it warms my heart.
Flower has been that safe place for so many women to begin their recovery journey. I have heard it referred to as 'The cul-de-sac of God' and 'The Unicorn Ranch'. From this place, much magic and recovery has gone out into the world. An end to an era for Crossroads, bidding farewell to one of the most enchanted places I have ever been privileged to be a part of.
We will always have a piece of this great place in our hearts and Crossroads for Women Flower will live on with the merger of Flower and Extension. I know we will be able to help more people with this ever evolving facility!
~ Donna Alexander, Community Outreach Director