In 1958, a group of committed citizens laid the groundwork for what is now one of the largest residential and outpatient substance abuse treatment programs in the United States. Armed with a desire to help others struggling to overcome addiction, they opened Crossroads' first campus, Crossroads East, in Phoenix in 1960. This began the 60+ year legacy of Crossroads changing lives, one person at a time. Crossroads continuously works to expand and improve our programs to meet the rapidly growing need for addiction services in Arizona. We operate multiple large campuses, serving over 5,000 men and women annually.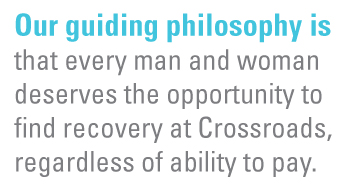 PIONEERS IN PEER-GUIDED CARE™
Today, Crossroads is an Arizona Department of Health Services licensed substance abuse treatment provider with proven expertise in serving addicted individuals through the provision of high quality, successful, and affordable peer-guided residential and outpatient programs. Peer-guided care is a service that is performed by 'our peers,' or individuals that have successfully completed substance abuse treatment programs and related recovery programs. Results show that our treatment methodology, 12-Step emphasis, a full menu of support services and community collaboration provides an effective basis for long-term recovery and promotes success. Through our program, clients develop the skills and confidence they need to transition successfully back into the community as healthy, self-sufficient, sober individuals.
Crossroads offers cost-effective programs that work. Our campuses provide a safe, healthy and highly structured environment for those committed to achieving sobriety and self-sufficiency. Our programs promote recovery, family reunification, and successful reintegration. We can help you or someone you love overcome addiction.
Our guiding philosophy is that every man and woman deserves the opportunity to find recovery at Crossroads, regardless of ability to pay. Each year, we provide more than $300,000 in scholarship assistance to individuals who are unable to afford treatment. We are also the largest substance abuse treatment provider in Arizona and the southwest. Additionally, we expertly serve special populations such as Veterans, homeless individuals, and ex-offenders through federal and state contracts.
To provide high quality, affordable, comprehensive substance abuse treatment programs and services that promote prevention, recovery from alcoholism and drug addiction, personal growth, accountability, self-sufficiency, and healing.
Changing lives, one person at a time.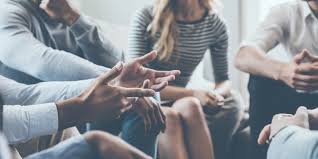 At Crossroads, we:
Honor and emphasize 12-Step recovery programs in our service to residents and the community.
Believe in the dignity and worth of all human beings and are committed to serving individuals towards living a life free of substance addiction.
Are committed to delivering high quality, comprehensive, empathic, hopeful, effective, and affordable services tailored to the needs of those we serve and our community.
Are committed to providing services that enable individuals to reintegrate into society with enhanced recovery, social, life, and emotional skills and with the highest degree of self-sufficiency and self-worth.
Are committed to being a good neighbor and serving the community by sharing our resources and providing services based on the values of 12-step recovery programs.
Are committed to integrity, ethical practices, professionalism, and fiscal responsibility.
Value relationships with alumni, donors, volunteers, colleagues, and community members.
We provide a safe and healthy residential environment for men and women committed to achieving sobriety and self-sufficiency. To contact any of our campuses, please call 602.263.5242.