Outpatient & Aftercare Services
Recovery from substance use disorder does not end after an individual completes residential treatment. Crossroads Outpatient Department offers multiple outpatient and aftercare sections.
Maintaining a routine and keeping up with a personal recovery program can be difficult after leaving a Crossroads facility. External factors and influences can emerge, and anxiety and stressors can become overwhelming. Continued care treatment in an outpatient and aftercare program can help individuals stay connected and focused by providing accountability, support, resources, and continued skill building to ensure successful long-term recovery.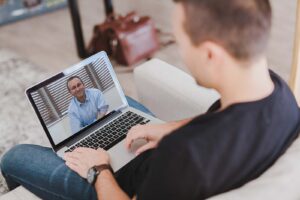 Crossroads Pretrial Outpatient Program (CPOP)
Comprehensive Outpatient program for U.S. Pretrial Services clients which includes supportive housing placement and subsequent aftercare services. CPOP has sections for Men at Crossroads Flower facility and for Women at Crossroads Extension facility. CPOP Curriculum is focused on relapse prevention, ongoing reintegration, and coping strategies to help preparation for sentencing.

Groups: Monday – Thursday 1:00pm–4:00pm & Monday – Thursday 4:30pm–8:30pm, Sunday 1:00pm–4:00pm
Crossroads Aftercare Program (CAP)
Co-ed outpatient program offered via telehealth and in-person. CAP has both conventional Outpatient (OP) and Intensive Outpatient (IOP) levels of care available. Enrolled clients generally decrease in service frequency as they progress in the program. CAP curriculum is focused on relapse prevention, skill development, and building support within the community. CAP offers individual counseling sessions held once per week, biweekly or less. Group counseling sessions are available on weeknights and weekends to accommodate client schedules. Clients attend 1-4 group sessions each week depending on their level of care.

Virtual groups available: Monday – Friday 6:00pm–9:00pm, Saturday 10:00am–1:00pm;        In-person groups: Monday & Wednesday 6:00pm – 9:00pm, Saturday 10:00am–1:00pm
Crossroads Community Day Treatment
Gender-specific treatment program for clients after they have discharged from a Crossroads residential program and continue residing at a Crossroads facility. Community Day treatment is intended for clients who have a desire to work on relapse prevention and skill building techniques while continuing treatment for their substance use disorder. Programming is intended to assist clients with learning accountability, obtaining employment, and to be prepared for reintegration into the community.

Schedules vary by facility.
Crossroads Scottsdale Outpatient
Co-ed outpatient program offering in-person services. Scottsdale offers a morning wellness group focusing on relapse prevention and stress reduction along with low-intensity exercise as well as an evening group with a focus on relapse prevention, skill development, and building support within the community. Enrolled clients will attend 1-3 groups per week and/or either weekly, biweekly, or monthly individual counseling sessions.

AM Group: 9:00am–12:00pm; PM Group: 5:30pm–8:30pm
Crossroads Technology Assisted Care (CTAC)
Treatment program incorporating technology-based therapeutic tools for prevention and outreach. Evidenced-based tools include computerized check-in and monitoring, delivery of web-based interventions, telehealth, wearables, and sensor management. Also incorporated is wellness training and mindfulness approaches, all done in a peer-led supportive environment preparing clients for reintegration into the community.

Monday – Saturday 5:30pm–8:30pm, Sunday 2:00pm–5:00pm